Copywriting
Announcing…
This Copywriting Page is a new section that is a work-in-progress. 
Ross has taken an online copywriting course through AWAI. He just took and passed their verification exam. 
The following seal is from AWAI. When you click on the seal, the AWAI website will confirm that Ross is AWAI Verified™. AWAI also provides an explanation to help marketers and potential clients understand what AWAI Verified™ means.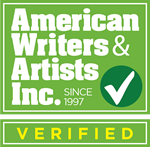 Here are some examples of sample sales letters. Stay Tuned. 
'Puptastic Naturals' is a fake product used for AWAI program purposes.